Castillo de Monda - Unwind in History
Find yourself a spot on the spacious terrace, an intimate corner of the tropical roof garden or have a drink with tapas at the bar. Enjoy a coffee or a glass of wine on the patio or book a table at the Albacar restaurant for some fine dining.
With chef Jaap Schaafsma in charge of the kitchen at Castillo de Monda, guests are assured of fine dining in an informal setting and international cuisine with a Mediterranean twist at the Albacar restaurant.
This spacious, light and airy dining area has all the modern comforts but the Moorish vibe is present everywhere in the tiling and archways of the interior to the fountains and patio garden layout of the exterior to create an exotic ambience and an extra special dining experience.
Furthermore, while meat and fish eaters are well catered for, there are numerous vegetarian options on offer, and if you have any specific dietary requirements or allergies, please let us know in advance so that we can do our very best to make sure you enjoy your meal with us.
Join us 'en groupe' or bring a date!
If you appreciate a good glass of wine but don't fancy ordering a whole bottle, you have come to the right place! We offer a selection of excellent wines served by the glass.
Ranging from our house wines to the more exclusive upmarket wine varieties. Feel free to try them all!
The Albacar restaurant is light and airy with contemporary flourishes but it also exudes the unique quality of dining with history thanks to the castle's original architects.
When you are looking for modern gastronomic excellence in an authentic Moorish setting, visit the Albacar, where the food, the setting and the service are unrivalled.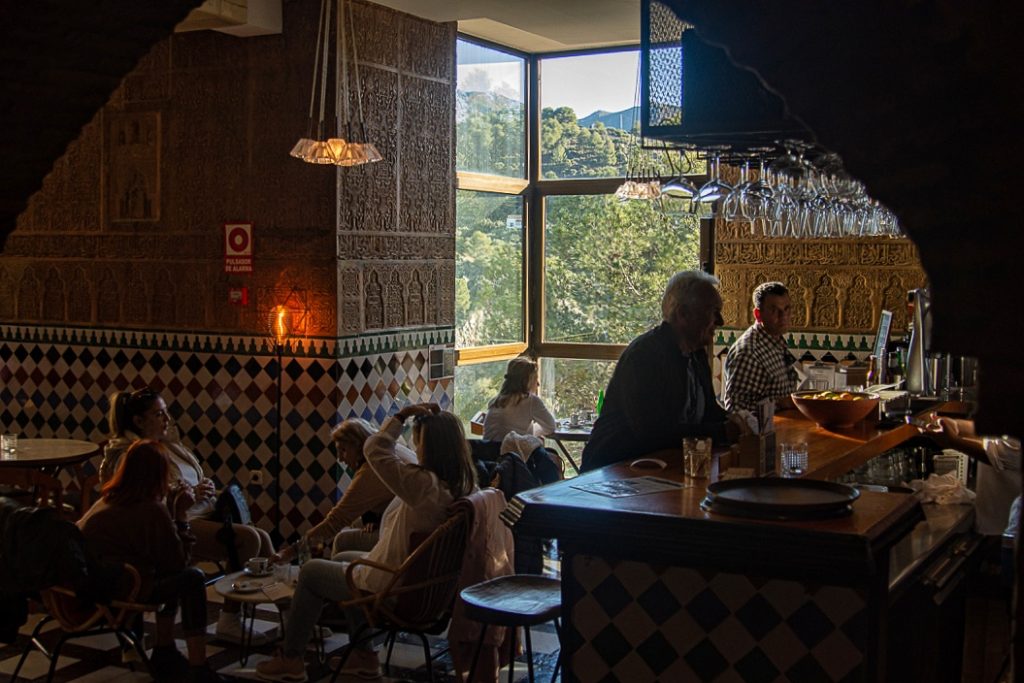 Bar Albacar lies in the heart of the castle and is a cozy hotel bar where you can enjoy snacks and light meals and a wide variety of local and international drinks.
The bar menu is available both in the bar and outside on our sunny terrace. 
Our Hotel Lounge is ideal for those lazy afternoons reading a magazine or newspaper with a fresh cup of coffee or tea.
Our lounge has direct access to the garden and private terraces offering an impressive view over the village of Monda and the astonishing countryside.
Our Lounge & Bar area is ideal if you are looking to sample one of our delicious tapas. Apart from nuts and olives, we serve a selection of exquisite small dishes and for those with an appetite we offer our now famous Monda Beef Burger amongst many other smaller menu items.
We serve our snack dishes both in our Bar Albacar or outside on one of our terraces away from the outside world with stunning mountain views in a relaxing atmosphere.
The a la carte menu of the Albacar restaurant changes regularly according to the seasons.
We always offer a selection of fish, meat, vegetarian and also vegan dishes for starters and mains.
All our dishes are made with the freshest ingredients of the highest quality, preferably locally sourced.
Our desserts are all home-made and finger licking good!
Special dietary requirements? No problem! Let us know when booking your table.
From the refreshing Mojito to the classic G&T, our bartenders are trained at the style of mixology found in more urban settings.
Corporate delegates will look forward to enjoying a drink at the bar, or on the patio, after a hard day's work.
Tourists will love a cocktail after a long day discovering the area, and the locals and visitors will enjoy one of the delicious creations whilst admiring the views from one of the hotel's terraces, forgetting every day life and enjoying the moment!